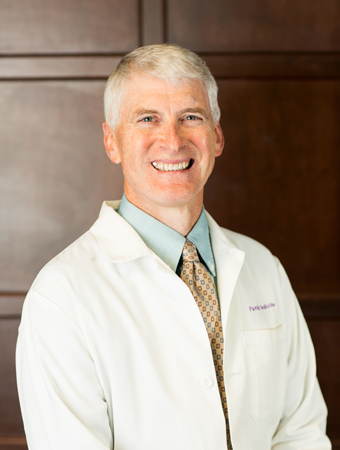 Dr. John B. (Bart) Pope completed his Family Medicine residency at Louisiana State University Medical Center in Shreveport in 1991 serving as chief resident. After residency Dr. Pope joined the Department of Family Medicine and Comprehensive Care at LSUHSC as an Assistant Professor of Clinical Family Medicine, promoting to Associate Professor in 1996 and to Professor of Clinical Family Medicine in 2003. He was Procedure Program Coordinator for the Department of Family Medicine from 1991-2010, teaching gastrointestinal endoscopy, cardiac stress testing, colposcopy, and other procedures to residents.
Dr. Pope has served on the lecture faculty and procedure faculty of the American Academy of Family Physicians and The National Procedure Institute; lecturing and conducting dozens of workshops nationally on various clinical procedures and topics for practicing family physicians and residents. He has also lectured on various gastroenterology topics for the AAFP Scientific Assemblies and AAFP Board Review Courses. Dr. Pope has multiple publications in peer-reviewed journals and textbooks and has participated in NIH funded research. He has served on advisory committees for the American Cancer Society in the area of Colorectal Cancer Screening. In 2004 Dr. Pope was elected an alumni member of the Alpha Omega Alpha Medical Honor Society.
Dr. Pope entered private practice at the Healthplex Family Clinic in 2010 in Shreveport where he practiced until joining The Family Doctors in 2018. Dr. Pope continues to perform GI endoscopy as part of his practice as well as other procedures. He is certified to perform DOT physicals.
Dr. Pope is married to Linda and has 3 married children. He is an active member of Broadmoor Baptist Church where he sings in the Sanctuary Choir and serves as a deacon and Bible teacher. He has served on multiple international medical mission trips. When not practicing medicine or spending time with family, Dr. Pope enjoys duck hunting, fishing, and playing tennis.
Dr. Pope is a member of:
American Academy of Family Physicians
Louisiana Academy of family Physicians
American Association of Primary Care Endoscopists
Accepting new patients:
Dr. Pope is accepting new patients
Medical education:
Louisiana State University Medical School, Shreveport
Doctor of Medicine – 1988
Undergraduate education:
McNeese State University – B.S. Pre-medicine (Summa cum laude)
Board Certification:
American Board of Family Medicine – 1991
Recertifications: 1998, 2005, 2015
Hospital appointments:
Christus Highland Hospital
Clinical Professor of Family Medicine (gratis) LSUHSC
Honors and awards:
Fellow of the American Academy of Family Physicians – 1996
Governor's appointment as LSUHSC physician representative to Louisiana State Medicaid Pharmacy and Therapeutics Committee – 2001-2007
Alumni member Alpha Omega Alpha – 2004
Louisiana Academy of Family Physicians Auxiliary Family Practice Award – 1998
Society of Teachers of Family Medicine Resident Teacher Award – 1991
American Medical Association Physician Recognition Award – 1994-2000
Preceptor of the Year Award LSUHSC Family Medicine residency – 2008
Best Family Doctors in Shreveport/ Bossier City – 2016-2017