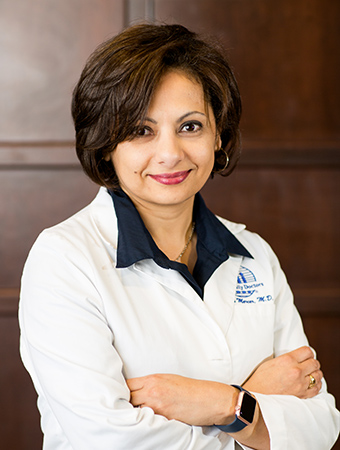 Dr. Sherin Mercer graduated from Louisiana School for Math, Science and the Arts. She then completed her undergraduate degree in biology from Louisiana state University in Shreveport graduating Magna Cu Laude. She joined The Family Doctors in 2001 upon completion of residency training at LSUHSC-Shreveport.
She has served on staff at LSUHSC Department of Family Medicine as preceptor to residents and medical students and remains on as courtesy staff. She is also a clinical instructor to third and fourth year medical students who rotate annually in her clinic.
She enjoys volunteer work including caring for patients on the St. Luke Mobile medical van.
Dr. Mercer has a special interest in gyn care. She performs in office procedures including pap smears, colposcopies, cryotherapy, and endometrial biopsies. She also performs many skin procedures.
She is an active member of Broadmoor Baptist Church and has participated in various mission trips.
She is married to Matt and has two sons, Michael and Sam. She enjoys traveling, running, and spending time with family and friends.
She is currently a member of:
American Academy of Family Physicians
Louisiana Academy of Family Physicians
Louisiana Medical Society
Shreveport Medical Society
Accepting new patients:
Please call 318 797 6661 with requests.
Primary Specialty:
Family Medicine
Medical Education:
Louisiana State University Medical Center, School of Medicine, Shreveport, Louisiana – Doctor of Medicine: 1998
Internships:
Louisiana State University Medical Center, School of Medicine, Shreveport, Louisiana – Family Medicine: 1999
General School Education:
Louisiana State University Medical Center School of Medicine, Shreveport, Louisiana – Bachelor of Science Biological Sciences: 1993
University of New Orleans, New Orleans, Louisiana – Bachelor of Science – Biological Sciences
Residency:
Louisiana State University Medical Center, School of Medicine, Shreveport, Louisiana – Family Medicine: 2001
Fellowship:
American Academy of Family Physicians: 2005
Board Certifications:
International Society of Clinical Densitometry: 2003>br> American Board of Family Medicine: 2001
In Practice Since:
2001
Honors and Awards:
Magna Cum Laude : 1993>br> Decinneal Scholarship : 1991